people in motion
Kolloru, Adams, Gallman, Metcalf, Serafin, Deveaux appointed to leadership positions
By Kristal Kuykendall
06/06/22
Editor's note: THE Journal welcomes submissions on new hires and promotions among education technology industry executives and K-12 public school administrators in the United States. The topical articles provided will be published regularly on THEJournal.com; the archive can be viewed anytime at THEJournal.com/articles/list/people-on-the-move.
To submit news about new leadership and management changes at K-12 education technology companies and nonprofits in the education technology space of the Kindergarten to Grade 12, complete the form at bit.ly/EdTechPeopleNews. To submit news about new hires and promotions within the K-12 Public School Administration, complete the form at bit.ly/K12AdminNews. Press releases should be emailed to [email protected].
Pearson appoints Kolloru as Chief Strategy Officer
Global Digital Learning Company Pearson appointed Sulaekha "Sue" Kolloru as Chief Strategy Officer. With over 15 years of global strategy experience, Kolloru most recently served as Vice President of International Portfolio Strategy and Transformation at Delta Air Lines, where he is recognized for identifying opportunities and leading the executing short- and long-term operational changes leading to greater efficiency through Delta and the collective scale of its partners, Pearson said in a press release. Kolloru also served as vice president of corporate strategy for Delta, leading many of the company's strategic and cross-functional programs.
Reporting directly to Pearson CEO Andy Bird, Kolloru "will lead strategic planning across the company, advise on critical global and business priorities, help refine Pearson's direct-to-consumer strategy, as well as chart a course for future growth," the company said. . Also reporting to Kolloru are the teams responsible for data, mergers and acquisitions, and other investments and partnerships that support Pearson's strategy. Kolloru began her new role at Pearson on May 16.
Prior to working at Delta, Kolloru was a partner and managing director of the Boston Consulting Group, where she worked with numerous technology and telecommunications companies and their executives on improving business and operational strategy and organizational effectiveness.
Kolloru earned an MBA from the Wharton School at the University of Pennsylvania and a Bachelor of Science in Electrical Engineering from the University of Ottawa in Canada. She has served on several nonprofit and diversity and STEM-focused boards and councils, including the advisory boards of the Jimmy Carter Center, Women in Technology, and the University of Ottawa's Department of Engineering. Kolloru is based in Atlanta.
Learn more about Pearsonplc.com.
Otus adds Adams and Gallman to management team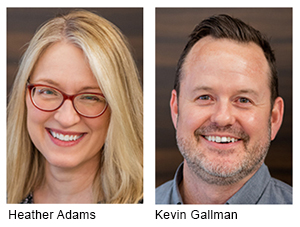 Otus, a student performance platform that gathers and visualizes real-time student growth data for educators, has added two K-12 education technology professionals to its team of direction: Heather Adams and Kevin Gallman.
Adams, the new vice president of human resources and operations at Otus, will focus on three strategic areas in her new role, Otus said in a press release: people development, employee engagement and talent acquisition and management. Adams was previously Director of Human Resources at Reading Plus, which was recently acquired by DreamBox Learning.
Gallman, Otus' new vice president of sales, will lead the company's national sales team. Gallman worked as a high school teacher and vice-principal for 13 years before moving into the education technology industry, Otus said in a press release; he previously led the sales teams of Reading Plus and Edmentum Inc.
Indianapolis-based Gallman is "dedicated to serving the education community to provide the power and potential to achieve better results through better data access and visualization with the Otus platform," the company said. in his ad.
The Otus platform is used by more than 2,500 schools in collaboration with more than 20 ed tech partners. Learn more about Otus.com.
Metcalf, Facilities Director of Waterloo Schools, Joins Architectural Engineering Company ISG
ISG has appointed Marty Metcalf, former facilities manager of the Waterloo Community School District, to the position of project manager within ISG's education business unit.
Metcalf has more than 40 years of facilities management experience, including overseeing and maintaining 21 school facilities with more than 10,000 students, ISG said in a news release. In his new role, Metcalf "will work with school districts across Iowa and the Midwest to develop long-term, strategic and actionable plans," ISG said. "Having led many new construction and renovation projects, he understands district goals and priorities, how to work within a set budget, and the benefits of consulting with project teams to identify immediate needs and solutions. that will benefit staff, students and the community."
To learn more about the company's training services, visit ISGinc.com.
Serafin joins Building Hope as Vice President of South West Operations
Building Hope, a non-profit organization that helps public charter schools fund, fund and operate their school facilities, has appointed Allison Serafin as Vice President of Southwest Operations, where she will work with leaders of the charter schools throughout Texas to create real estate strategies to develop and fund new school facilities and expand public school options, according to a press release.
Serafin's new role makes her a senior member of the organization's real estate team; she will report directly to Building Hope Real Estate president Dru Damico, the organization said.
Originally from Houston, Serafin brings more than two decades of experience to Building Hope through her career in education. She began her teaching career at Teach For America-Houston, where she was a faculty member at Attucks Middle School. Serafin then served as Executive Director of Teach For America-Las Vegas, supporting the Clark County School District Superintendent as a special consultant, launching Opportunity 180, and serving as an elected member and Vice Chairman of the Nevada State Board. of Education. She also served as vice president of development for IDEA Public Schools throughout Texas, where she raised funds, managed the region's real estate strategy and site acquisition process, and secured the first five campus sites for the region's growth plan.